Story
Nest's thermostat is a smart thermostat that learns when and how to adjust itself automatically to the user's preferences over time. The thermostat also has a scheduling module on the Nest website that lets the user schedule temperature targets for the week.
The current scheduling module takes some effort to use. Its functions are also very limited. The user can only set targets for the current week. This module should be redesigned with a more intuitive interface and features that will cater more to the user's needs to match the thermostat itself.
Development
I also developed this project as practice. The project works with a Nest thermostat simulator, the Nest API, and a weather API to gather real time data. This application shows the basic interactions, but it does not contain all the features I had planned in my design. For now, I have made an Invision prototype to show how the features would connect.
Use this information to log in below
Username: thermostatscheduler@gmail.com
Password: scheduleMak3r!

Try the app (WIP)
See the prototype
Research
Current Interface
The current schedule module for Nest requires the user to read the temperature of each target to know what it is. To know when the temperature is scheduled, users would have to visually draw a line from the target to the timeline. It may still be hard to pinpoint because targets can be scheduled on 15 minute intervals. Overall, it takes time to read and understand this schedule.

UI Inspiration
Other thermostat schedule modules, such as Engie and Netatmo, take a more visual approach by displaying set temperatures as blocks of colors that make up a whole day. Users can also create temperature presets and connect them to colors.
User Personas
Linda Jennings is a mother with a 9:00 to 5:00 office job. She has a regular routine, driving kids to and from soccer practice after work and holding book club on the weekends. Her family goes on a month-long vacation every summer. She already knows how to schedule her thermostat according to different daily routines. She would like a system that lets her build her thermostat schedule based on the types of days she has.
Jon Wallace is a bachelor living on his own. He lives in a place where the weather varies greatly day to day, but he doesn't want to worry about changing his thermostat all the time. Paying for a house on his own is tough, so he tries to save where he can. This means not running the thermostat too much. However, his parents sometimes stay over for a few days, and he wants the house to be at a comfortable temperature when they do.
Wireframes
Base
Add Target
Past Days
Templates
Smart Set
I chose to go with a circular interface that represents a 24 hour clock with sections colored according to the set temperature. At a quick glance, users can see and get an idea of what their thermostat schedule looks like.
Clicking on the ring will add a temperature target at that time.
When users schedule other days, they can see how much energy the thermostat used if the day has already passed.
Users like Linda who have regular schedules can set up templates of targets to follow on certain days.
Users can set their thermostat to automatically adjust to the outdoor temperature. They can also have multiple Smart Sets, so someone like Jon can easily change to a different set when their guests come over.
---
Hover over a highlighted area for more details
Users can choose set schedules for individual thermostats throughout the house.
Current temperature and time are shown in the middle of the schedule.
A target will signal the thermostat to change the temperature at this time.
A triangle will signal which temperature the thermostat is currently set to.
Along with the set time for target, users will also see the temperature outside to make an informed decision.
Users can change the target temperature by adjusting this node as a dial.
Users can save preset temperatures to easily set targets in the future.
The brightness of the inner ring shows how energy efficient the user's settings were at that time of day.
Current temperature and time are not displayed if the selected schedule is not for the current day.
Temperature targets in templates have the same function in normal scheduling.
Users can turn set their thermostat to turn off when they leave the house.
For example, when the weather outside is about 25 degrees to 65 degrees, this user wants to set their house to 75 degrees.
Users can turn their thermostats off at a certain outdoor temperature if they do not need the indoor temperature to be different from outside.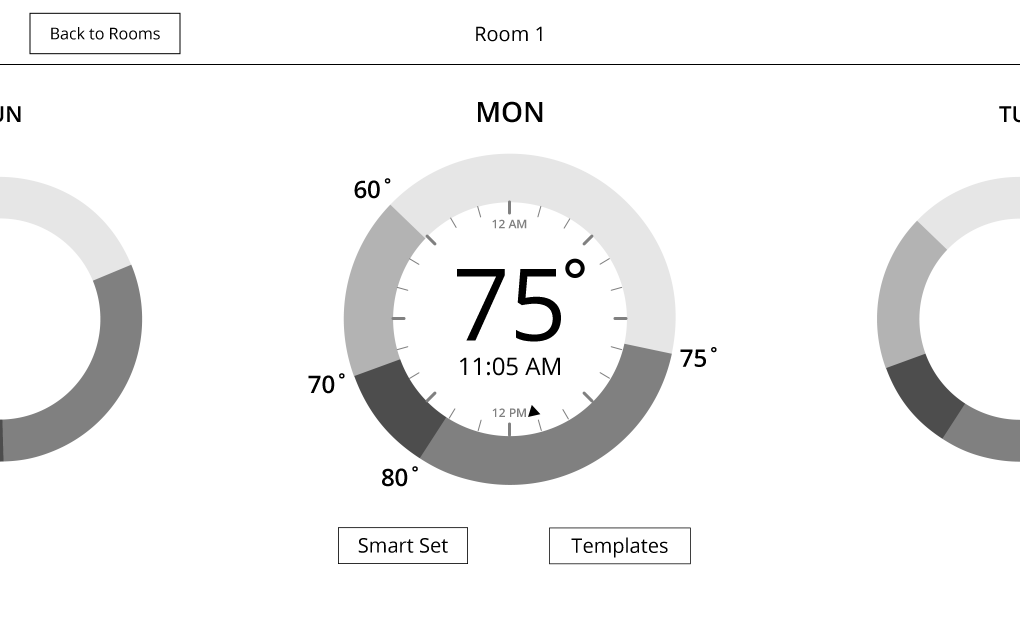 Mood
friendly
fresh
bright
homey